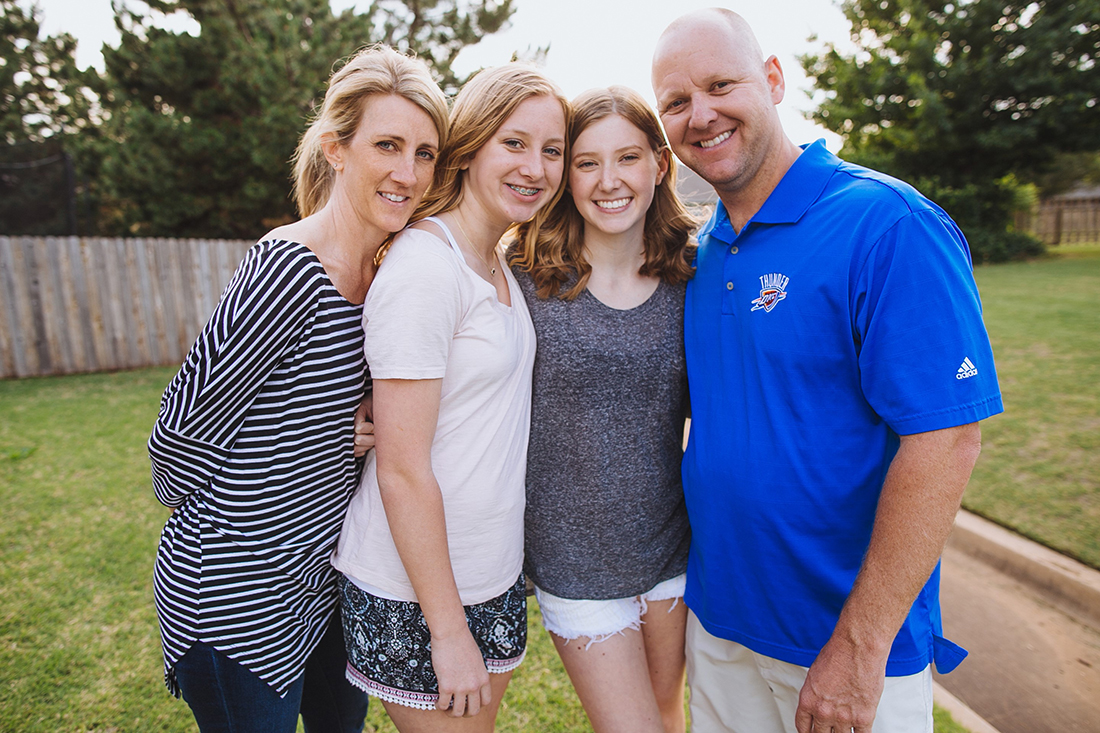 Kennedy Stearns and Family (2018)
In 2009 when Kennedy Stearns was eight years old, her parents started to notice that she would tire easily playing with her younger sister, Riley or doing the simplest of everyday tasks, and her complexion was always pale.  Kennedy's parents, Tamara and Jason took her for a check-up.  It took a few weeks for the doctors to reach a diagnosis because Tamara didn't show the typical symptoms of Leukemia.
The Stearns family live in Edmond, Oklahoma.  Being minutes away from The Children's Hospital at OU Medical Center, Kennedy's chemotherapy treatments were always scheduled on a weekend.  For two years, they were in and out of the hospital with only two to three day stays.  In 2011 at 10 years old, Kennedy was cancer free.
"In the beginning, we felt bad for using the Ronald McDonald Family Room (RMFR) since we had the ability to leave and go home," said Jason Stearns.  "It was only a 15 minute drive for us, but the round trip would take an hour or two.  Our doctor would check on Kennedy at any time of the day, and we didn't want to miss our child's doctor visit because we went home to shower or get clean clothes."
In 2016 at 15 years old, Kennedy was re-diagnosed with Leukemia.  During one of her chemotherapy treatments, she contracted a fungal infection.  Because her immune system was so low from the chemotherapy treatments, this infection made Kennedy so sick she had to be admitted to The Children's Hospital for two months.  Seventeen of those days were in Intensive Care.
While Kennedy was admitted to The Children's Hospital, her mom Tamara only left the hospital twice.
"My wife felt guilty for leaving her daughter in the hospital to go home and take care of herself," said Jason Stearns.  "We became regulars at the RMFR.  It was good for Tamara to get away for an hour or two to shower, blow dry her hair and just get away and decompress for a minute.  It was also so nice to be able to do a load of laundry.  So we could have clean clothes without leaving the hospital and leaving our daughter by herself."
With Kennedy still receiving treatments to fight cancer, Tamara, Jason and Riley are able to find a small piece of normal at the RMFR while at the hospital.
In between treatments, Kennedy is just like any other teenager.  She loves art, hanging out with friends and coffee.  She also finds the time to pursue her interest in photography.  She's taken photography classes for several years and loves taking pictures.  She even has a side job of taking family and senior portraits. Kennedy is still receiving treatments, and we can't wait to see her beat cancer…again.
Photo:
From left to right:  Tamara, Riley, Kennedy and Jason Stearns