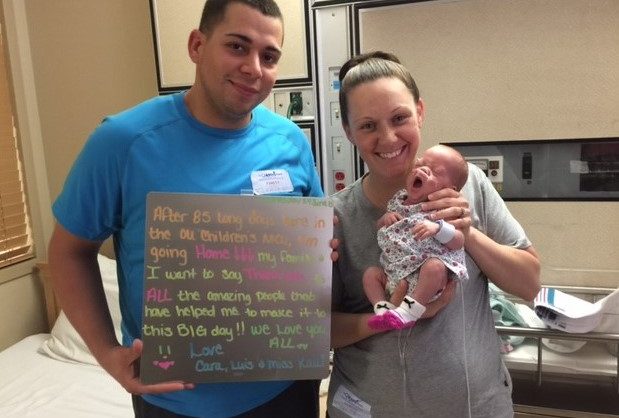 Help us provide families with a comfortable place to stay within minutes of their hospitalized child – 24 hours a day.
Sponsor one of the 38 private bedrooms for an entire year!
Last year, 804 families found themselves at our door seeking a place to stay while their children received top-notch care at an Oklahoma City hospital. A new family checked in every 10 hours and 54 minutes. Your past support kept these families close to their hospitalized child during one of the most stressful times of their lives.
In 2019, we provided 8,675 nights of stay, but turned families away 2,201 times due to lack of rooms. We want you to know our recently completed 4th floor 26 bedroom expansion brings us to 40 rooms which allows us to close the gap and serve even more families.
As an Adopt-a-Room sponsor you are helping to defray operating costs for a room so that we can continue to provide our services at no charge to families. You will have your name featured on a plaque outside your room to welcome guest families and they will find a personal note from you in their room to remind them you're thinking about them every day.
To make a donation click HERE
For more information regarding Adopt-a-Room, please contact Judy Reyes-Henderson at (405) 424-6873 or jreyes-henderson@rmhc-okc.org
Show a family you support them. Welcome them to their room as they enter and leave them a note of support.
Togetherness is invaluable. Luis and Cara Alicea (pictured above) were both active air defense military personnel stationed at Fort Sill in Lawton when their baby was born prematurely at 25 weeks and medi-flighted to Oklahoma Children's Hospital. Ronald McDonald House provided temporary housing and all the comforts of home so they could stay close by for three months while Kalli grew stronger. "It helped so much that we didn't have to drive back and forth from Lawton each day," Cara said. "The staff and volunteers really cared about and encouraged us. We will continue to stay connected to this wonderful charity that helped us so much," Cara said. Luis was already supporting Ronald McDonald House through payroll deduction, not knowing that someday his family would need their help.