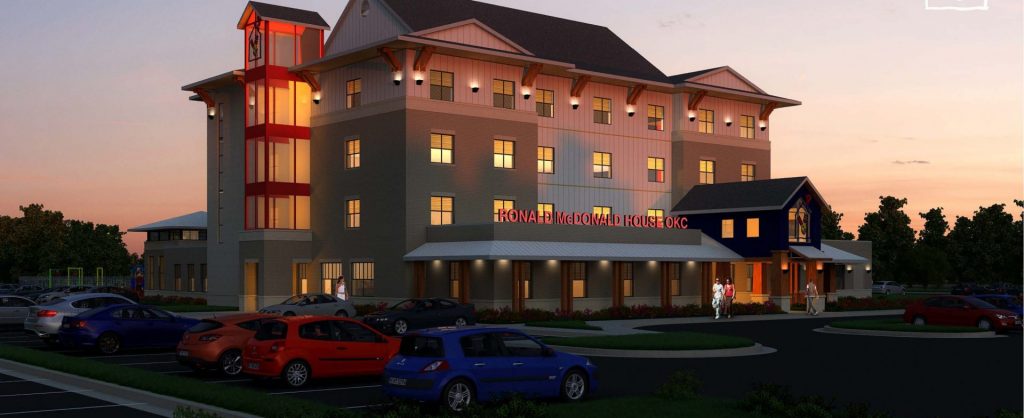 Opening Doors Finding Hope
Ronald McDonald House Northwest OKC
Well more than 90% of the families currently served by RMHC-OKC have a child receiving treatment at Oklahoma Children's Hospital. As more and more rural hospitals are reducing services or closing, and as area hospitals provide more specialized services, the demand for our services is growing/continues to grow. The recently expanded 40 bedroom Ronald McDonald House at Oklahoma Children's Hospital does not have anywhere near enough rooms to meet the need for families seeking treatment at other Oklahoma City area hospitals.
And the drive to NE 13th Street in Oklahoma City can seem overwhelming to families who worry they will not be able to return to the hospital in time if their child's condition changes. A recent study indicates that due to the lack of available rooms and distance from our existing Ronald McDonald House, we are significantly underserving those receiving treatment at our other partner hospitals – The Children's Center, Integris and Mercy. The assessment reflects a current shortfall of 28 rooms and the forecasted need increases to nearly 40 rooms in the next 5-10 years.
In response to the unmet need and to help close the service gap validated in the study, a new Ronald McDonald House is planned for northwest Oklahoma City which will keep families with sick children at all of our partner hospitals even closer to each other and the medical care and resources they need, when they need it most.
Areas with naming opportunities are outlined below. To learn more about our capital campaign please contact Judy Reyes-Henderson, Executive Director of Development at (405) 424-6873 x 106 or jreyes-henderson@rmhc-okc.org.
If you're ready to make a gift to the Opening Doors Finding Hope campaign, simply click GIVE NOW!
Click on a space below to learn more about opportunities.
Interested in learning more about the campaign?
The campaign brochure provides an overview of the new House along with testimonials from doctors and guest families. Explore it by clicking Opening Doors Finding Hope
And view our campaign video by clicking HERE!
Thank you to the following who have already given generously:
McDonald's Owner/Operators of Central and Western Oklahoma
Gaylord Family Foundation
Ed & Jodi Sanchez
Lopez Foods
John C. & Patricia K. Lopez
Dave & Stacy Lopez
John Patrick & Jeannie Lopez
Dorada Foods
Noble Foundation
Jan Brown
Jim & Vicki English
Kevin & Alisha Dunnington
The Bama Companies Inc.
The Thorley Family
Grant & Shelly Lambertz
Charles & Frances Roos
Tenaris
VOX Printing
Harold Hamm Foundation
Pick Family Fund

L – The McDonald's Owner/Operators of Central & Western Oklahoma Beacon of Hope
The Beacon of Hope will stand for hope for hospitalized children and their families. At night the light shining from the tower will serve as a beacon guiding families to the Ronald McDonald House where we will keep them close to their sick child.
A very special thank you for the map goes to