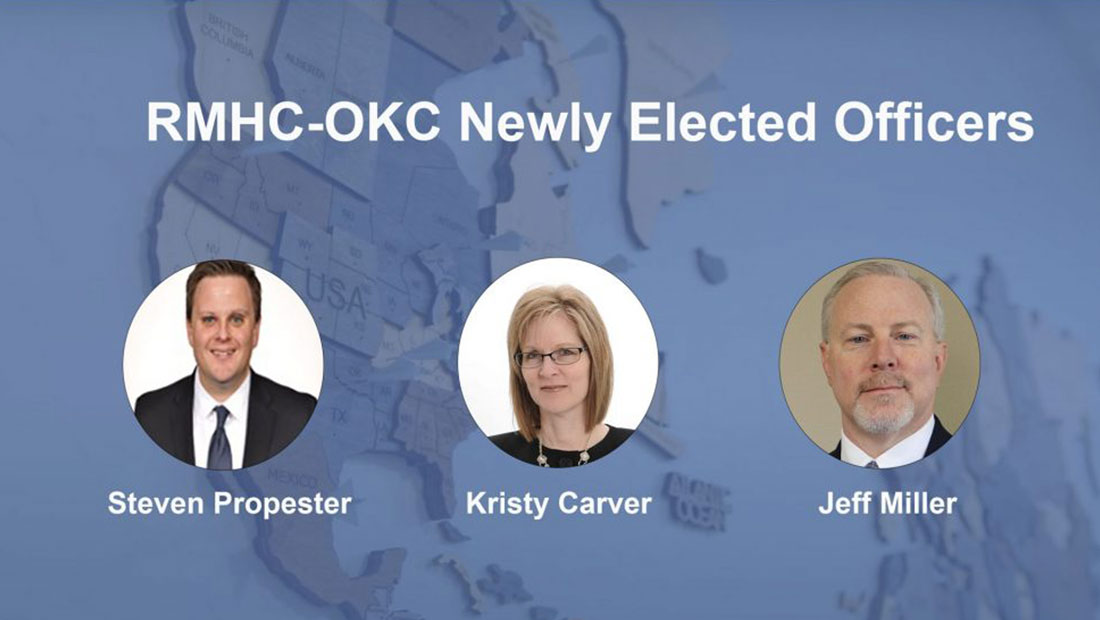 20 Jan

New Officers for the RMHC-OKC Board of Directors

Ronald McDonald House Charities Oklahoma City (RMHC-OKC) announces the election of three new officers to its board of directors. The newly elected members are Steven Propester now serving as chair, Kristy Carver will fill the role of treasurer, and Jeff Miller will fill the role of Secretary.

"We are grateful for these dedicated community volunteers who have stepped up to lead our Board of Directors", said Susan Adams, President and CEO of RMHC-OKC. "Their expertise and guidance is invaluable as we execute our strategic plans to meet the rapidly growing need for our services by families in medical crisis."

The New Members

Steven Propester currently serves as Audit Partner at Grant Thornton, LLP. He has practiced public accounting in the Oklahoma City office of Grant Thornton, LLP since 2008. His clients include SEC registrants, large private equity groups, and privately owned energy partnerships. He is experienced in integrated audits, debt and equity securities offerings, asset divestitures, equity incentive grants, business combinations, troubled debt restructuring, and the implementation of new accounting standards. His professional experience also included an international rotation with Grant Thornton International's office in Perth, Australia where he ran the audit of a SEC registrant based in Kuala Lumpur, Malaysia.

Kristy Carver is Senior Vice President and Treasurer of LSB Industries, Inc.  She joined the Company in 2008 and has extensive financial, accounting and tax experience across the manufacturing and financial services industries.  Prior to joining LSB, Carver was a Senior Vice President at IBC Bank (formerly known as Local Oklahoma Bank) primarily focused on strategic tax planning, compliance, reporting and supervising multi-year tax litigation arising from certain government assisted acquisitions and related matters. Carver began her career at Arthur Andersen LLP and is a certified public accountant. Carver holds a Bachelor of Science in Accounting from the University of Central Oklahoma.

Jeff Miller is Vice President and General Counsel for The Haskell Company. Miller has 27 years of legal experience representing insurers, manufacturers, business owners, design and construction professionals, general contractors, construction managers and subcontractors of all types and sizes. As head of the Legal Department at Haskell, Jeff leads a team of highly competent legal and contracts professionals. He serves as the lead negotiator of all Design-Build/EPC contracts for Haskell and all of its subsidiaries. Miller earned his Law degree from the University of Oklahoma and his undergraduate degree in Manufacturing Engineering Technology from Oklahoma State University.

Last year RMHC-OKC celebrated its 40th anniversary while also increasing its capacity to serve families in the Garrison Tower at the University of Oklahoma Health Sciences Center. The ability to serve more families free of cost during their time of need is always the focus of the organization.

"Having overcome one of the most challenging years in the organization's history, we are excited to begin 2021 with positive momentum", said Propester. "We are using the year to springboard our mission from doubling our capacity in the Ronald McDonald House at Oklahoma Children's Hospital, to making progress on our capital campaign to build a Ronald McDonald House on the Mercy Hospital campus in NW Oklahoma City. We hope to rally Oklahoma's support to help us in our mission of caring for families of sick and injured children so that they can focus on what is most important – being close to their kids in their greatest time of need."

If you would like more information about Ronald McDonald House Charities Oklahoma City or how to get involved, please visit www.rmhc-okc.org or call (405) 424-6873.