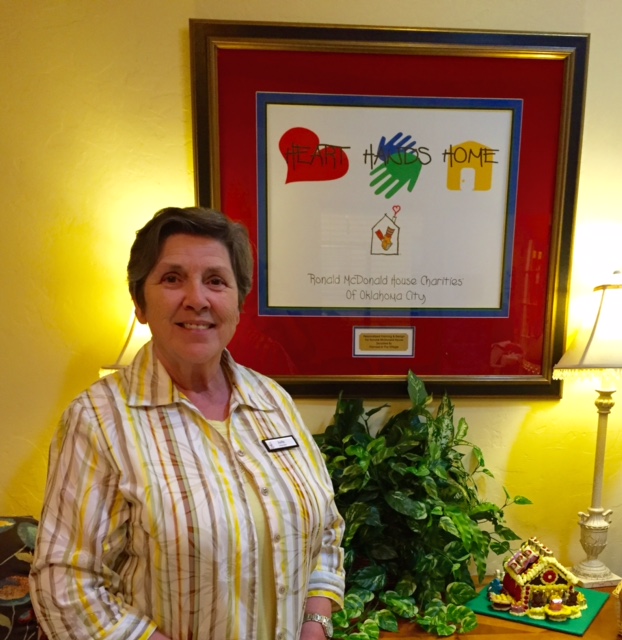 Judy Baldridge, Ronald McDonald House Volunteer
Judy Baldridge has a big heart and equally big smile which makes her a perfect volunteer at Ronald McDonald House Charities® Oklahoma City. When Judy retired from the telecommunications industry, she moved to Oklahoma City to be near her daughter and grandchildren. Soon after, she began volunteering at Ronald McDonald House Charities Oklahoma City.
Judy greets and checks-in guest families, gives tours of the Ronald McDonald Houses, and more− she is always eager to help in any way she can. Her motto is: "I just want to help." Judy has been volunteering at RMHC-OKC for two years and says she loves it.
"The idea that we are helping parents through such a critical stage and that we are impacting so many lives, it makes me feel good to walk through the door each time."
She says the best part of volunteering is getting to know the families and helping them through a difficult time.
"I am amazed at the strength of these families. They are dealing with cancer, transplants and major surgeries− there is a lot of stress. Because of our Ronald McDonald Houses, parents are right here close to their children, and they don't have to worry about the expense of hotels and meals. The Ronald McDonald Houses give them a chance to breathe deep, to talk with other families who are going through similar circumstances, to eat and rest. They are going through so much− they really need that. I am thrilled to be a part of RMHC-OKC and wouldn't volunteer anywhere else."