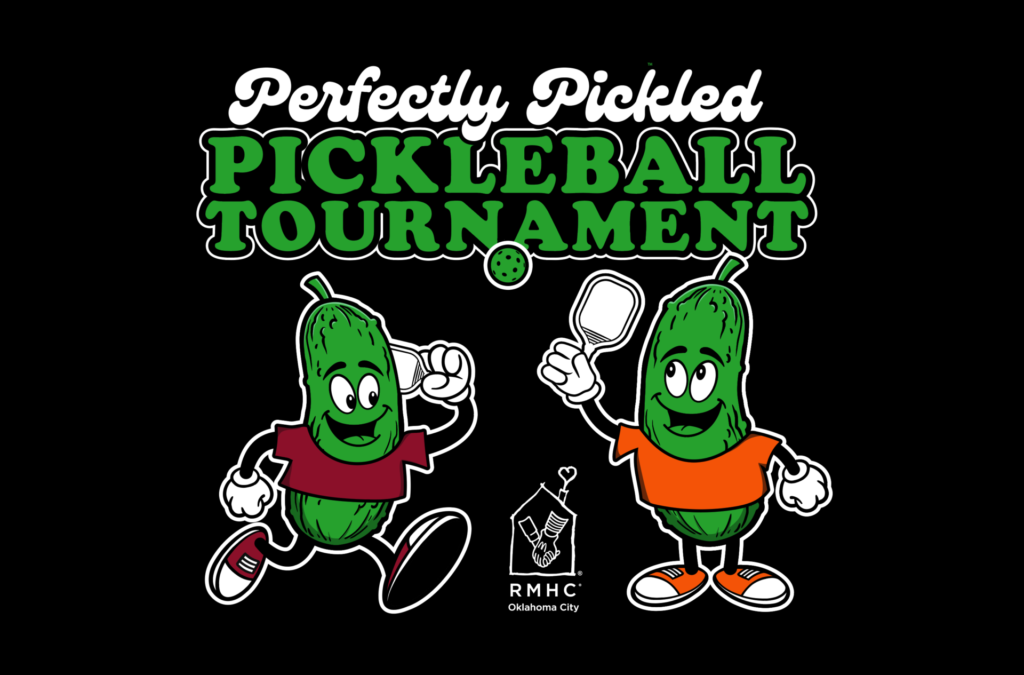 Perfectly Pickled
A Pickleball Tournament
Saturday, November 19
10 a.m. to 1 p.m.
Join Ronald McDonald House Charities® Oklahoma City for our first-ever pickleball tournament, Perfectly Pickled,  held at Chicken N Pickle OKC on Saturday, November 19 from 10 am to 1 pm.
Our tournament is an all skills-level (from those who ask what is pickleball to those whose overhead smash is something to talk about), family-friendly event. There will be prizes to win, delicious food to eat and a raffle.
Each team consists of two (2) players and the registration fee is $100. Each player will receive a Perfectly Pickled t-shirt as part of their registration. The first 10 teams to register can receive $10 off with promo code Perfectly Pickled.
When you register to play, you are helping us in our mission to keep families close by providing a "home-away-from-home" to families with a hospitalized child receiving medical treatment in the OKC area.
Are you ready to show us your overhead smash? Sign up to play now!
Event Details 
Chicken N Pickle OKC – 8400 N Oklahoma Ave, Oklahoma City, OK 73114
Tournament Play – 10 a.m. to 1 p.m.
10 a.m. – First 45 minutes – Round Robin bracket play! This allows you to warm up and get used to the game if you're a newbie and also determines the bracket for the actual tournament.
Next 15 minutes – take a break! Ask our Pickleball Pro any additional questions about the game, take a quick potty break, and be back and ready for Perfectly Pickled!
The next 2 hours are tournament play! The tournament runs single elimination, so if you lose a game, you are welcome to grab a drink, snack, or play a game of Cornhole while enjoying the rest of the tournament.
Prizes awarded following last match.
Awards – directly follow tournament play to include: 1st, 2nd, and 3rd place winner; Best Team Name Winner; Raffle Winners ($10 tickets sold during the tournament)
Event Contacts
Event Logistics – Andrea Moore or (405) 424-6873, ext. 107
Sponsorships  – Judy Reyes-Henderson or (405) 424-6873, ext. 106
Thank you to our sponsors:
Presenting Sponsor – Friday Health Plans
Food & Beverage Sponsor – John & Jeannie Lopez
Court Sponsor – Mussatto Brands